Liza over at
Mommy's Little Corner
awarded me the "Over the Top" blog award, and I couldn't be more thrilled!! Thank you so much Liza!! I absolutely LOVE it!!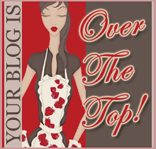 Liza is a stay at home mom, who blogs and has the most scrumptious recipes on her blog!! I wish I could make what she makes!! LOL And I love her blog design!! It is so cute!

Anyway, To receive this award your blog must be exceptional in design and content; presenting us with new knowledge, a sense of style, or at times just giving us a smile!
Each recipient of the award will acknowledge the person who honored them with the award and then go to http://overthetopaprons.blogspot.com to copy/paste the award : Your Blog is Over The Top. (located on the right sidebar, scroll down)
I also have blogs that I think are over the top, and qualify for the requirements listed above, and they are: drumroll, please......
Dolly's Daily Diary
My Art and the Mom in Me
My Kids are my World
Comedy Plus
Simply Charming in SC
beetle's Memories and Ramblings
Women's Self Esteem blog
Altered Events
Again, participation is not mandatory, just know that I thought your blog was over the top!
There are so many more blogs that I want to list, that I feel guilty leaving them out...but there is always next time..... :)
Till Then,
Take Care,